John Lennon Birthday, Former Beatle Would Have Been 72-Years-Old today.
Had he lived, John Lennon would have celebrated his 72nd birthday today.
The former Beatle who penned the peace-loving classic Imagine, was shot dead in December 1980 outside the Manhattan apartment building where he shared a home with his wife Yoko Ono.
The Imagine Peace Tower is a memorial to John Lennon from his widow, Yoko Ono, located on Viðey Island in Kollafjörður Bay nearReykjavík, Iceland. It consists of a tall "tower of light", projected from a white stone monument that has the words "Imagine Peace" carved into it in 24 languages. These words, and the name of the tower, are a reference to Lennon's peace anthem, "Imagine".
Artist and activist Yoko Ono's decision to present Lady Gaga with the LennonOno Grant for Peace at a ceremony in Reykjavík on October 9, her late husband John Lennon's birthday, has garnered worldwide attention. "Lady Gaga is one of the biggest living artists of our time," Ono wrote in a press release. "She is not only an artist, she is also an activist, using her art to bring better communication to the world."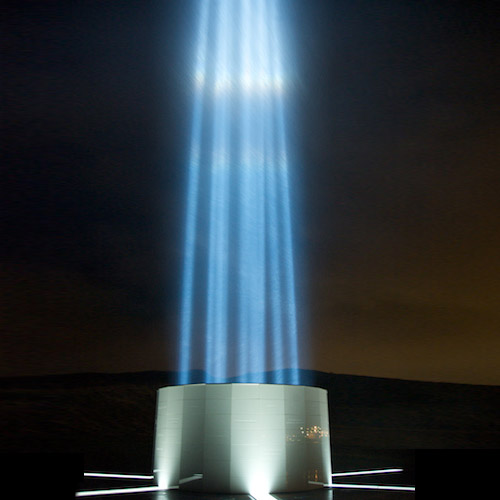 The annual lighting of Yoko Ono's Imagine Peace Tower will be streamed live via webcam from 8 pm local time (4 pm ET) today.
One of the mesmerising features of the IMAGINE PEACE TOWER is that the strength, intensity and brilliance of its light continually changes with the prevailing weather and atmospheric conditions unique to Iceland - creating a clear pillar of light on a cloudless night, beams irridescing with rainbow refractions in rain or snowfall,
and brilliantly reflecting off and through any moving layers of cloud.
MESSAGE FROM YOKO ONO

Dear Friends,
On October 9th 2012, I will relight IMAGINE PEACE TOWER in Iceland in memory of my late husband John Lennon.
Please ask all your friends to join us by Tweeting wishes to IMAGINE PEACE TOWER (@IPTower), which you can do right here at IMAGINEPEACETOWER.com (the Tweet box is top right).
You can also send wishes by post, email & Facebook. Tell all your friends.
Spread the word!
I hope the IMAGINE PEACE TOWER will give light to the strong wishes of World Peace from all corners of the planet and give encouragement, inspiration and a sense of solidarity in a world now filled with fear and confusion.
Let us come together to realise a peaceful world.
Love is our energy.
Wisdom is our power.
It's time to shed light to all corners of the world.
Enjoy the trip we make together.
love,

Yoko Ono Lennon
October 2012