Theatre News on "La edad de la ciruela" by

Aristides Vargas

;
PREMIERE: September 1 to September 4 , 2011.
Thursday, Friday and Saturday at 8:00PM - Sunday: 6:00PM
Venue: Sala Mariana de Jesus (2nd floor) at the Casa de la Cultura Ecuatoriana – Quito, Ecuador
We finished staging the play a few days ago, now we need run it through so as to polish it. The whole process for me has been at times hard as I'd had to delve into strong emotions that stir me up. But that is being an actor. Our body and soul is our instrument and our duty is to serve our characters although It's exhausting and tough going through memories, feelings, etc..To be vulnerable to everything we carry in our personal, intimate, and physical being, it is part of the creative process.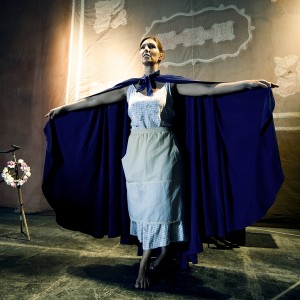 Working with Rossana Iturralde as director and actress has been very interesting. We have good chemistry and then, there's nothing like sharing a stage with talented actors who give themselves and so nurture you to give your best back hoping this brings true moments without forgetting that "playing" also needs to be fun!
The whole process has been based on lots of physical work. Rehearsals have showed me new experiences through new exercises, improvisations, many hours of searching for mannerisms, voice, attitude, impulses for all different women roles I play. We also have laughed very much!
All of last week we focused on promotion and dealt with press and many publications will be out on the streets. Next week we'll be featured in interviews and articles in magazines like: Vistazo, Vanguardia, Hola and Familia.
We hope you truly enjoy the play, it's a little gem as everyone can connect with it through it's deep emotions and poetry.
Come see us on stage in "La edad de la ciruela", ("The Aging of the Plum")
Text and original staging by: Aristides Vargas
Produced by: Corporacion Teatral Tragaluz & C. Morrison
Directed by: Rossana Iturralde
"La edad de la ciruela" is a story about many women through three generations in an old family house in which it's walls keep their story which contains universally human themes: memory, time, power, madness, love, abandonment, mortality … poetically written and living on the edge of magical realism, with deep emotions, splendid and very well developed characters, where there is room for humor and where the two actresses play all of the different women of the old house of where the plum lives in the garden and which symbolizes many things.
Cristina Morrison plays: Eleonora, Francisca, Abuela Maria and Tia Adriatica
Rossana Iturralde plays: Celina, Jacinta, Victoria, Blanquita, Tia Adriatica & Abuela Gumersinda.
———————————————
ESTRENO: 1 de Septiembre hasta el 4 de Septiembre, 2011.
Lugar: Sala Mariana de Jesus (2do piso) en la Casa de la Cultura Ecuatoriana, Quito-Ecuador
Horario: Jueves, Viernes y Sabado 8:00PM - Domingo 6:00PM
Terminamos de montar la obra hace pocos dias. Ahora necesitamos pasarla y repasarla para que fluya, para ver los detalles, para sentirnos seguras. Ha sido, para mi, enfrentar varias emociones profundas todavia a flor de piel que me hieren mucho pero que dan servicio a ciertos personajes. Es parte de este trabajo. Tu eres tu propio instrumento y todo lo que llevas en tu bagaje memorial, fisico y emocional es parte del proceso creativo.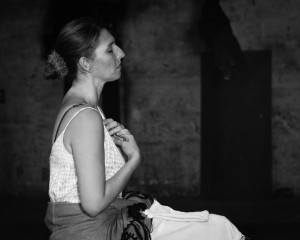 Trabajar con Rossana Iturralde como directora y actriz ha sido muy creativo e interesante….muy buena quimica y no hay nada como compartir el escenario con actores talentosos que dan todo de si y asi te nutren para dar tambien lo mejor de ti. Este montaje contiene mucho trabajo fisico y los ensayos vinieron con experiencias nuevas, siempre se aprende…nuevos ejercicios, nuevas maneras de enfrentar el trabajo… improvisaciones extensas, muchas horas de ensayo y tambien muchas risas. Jugar "to play" es el teatro y debe ser divertido!
Esta ultima semana hemos sido entrevistadas por diferentes medios impresos del pais. Saldremos la proxima semana en las revistas Vistazo, Vanguardia, Hola y Familia. Esperamos que les guste la obra, realmente es preciosa y todos se podran identificar con ella. Vengan a vernos en el re-montaje de "La edad de la ciruela"!

Actuaciones: Cristina Morrison & Rossana Iturralde
Texto y montaje original de: Aristides Vargas
Produccion: Corporacion Teatral Tragaluz & C. Morrison
Direccion General: Rossana Iturralde
"La edad de la ciruela" es una historia de mujeres a traves de tres generaciones. Una casa vieja de familia en la cual las paredes guardan temas que son universalmente humanos: la memoria, el tiempo, el poder, la locura, el amor, el abandono, la mortalidad…Una obra poeticamente escrita que vive al borde del realismo magico, con emociones profundas, personajes esplendidamente desarrollados, donde hay espacio para el humor y donde las dos actrices interpretan a las distintas mujeres de la vieja casa del ciruelo.

Cristina en los roles de: Eleonora, Francisca, Abuela Maria y Tia Adriatica
Rossana en los roles de: Celina, Jacinta, Victoria, Blanquita, Tia Adriatica y Abuela Gumersinda